Costa Ricas only zipline with a volcano and lake view
Get your heart pounding by taking a zipline ride through the Costa Rican forest canopy; whizz along cables slung between canyons, admire unique and breathtaking views of the Arenal volcano and lake, fly over and in between trees to feel an adrenaline rush like no other.
Unmatched Adrenaline Zipline Experience
Gear up for the ultimate zipline experience at Sky Adventures Arenal! Your journey begins with a scenic tram ride, offering aerial views as you ascend the mountain. At the top, you'll reach an exclusive viewpoint featuring the iconic "Hand of Arenal" sculpture, set against the stunning backdrop of Arenal Lake—a must-capture photo moment for anyone visiting La Fortuna.
Next, it's time to let loose on our ziplines, where you'll zip from peak to peak. Glide along seven high-flying cables, with the longest reaching over 750 meters (over 2,460 feet!) and the highest at 200 meters, all at thrilling speeds of up to 70 km/h.
Experience pure adrenaline paired with breathtaking views, giving you a VIP pass to the majestic mountains, the awe-inspiring Arenal Volcano, and the picturesque Arenal Lake. This is the adventure of a lifetime, and it's only here, waiting for you to dive in!
Sky Adventures Zipline Tour Highlights

Safety Oriented Experience
We take extra measures with safety: exclusive designed cables, top of the line equipment, certified activity, use of platforms not trees, and more. You'll be safe.

No Hands On Cable
A safer, and much more enjoyable practice is to have hands on the pulley. We want you to enjoy the adrenaline and the views, simply enjoy the ride.

A Magnificent Ride
More than 800m (2600ft) of our magnificent aerial tramway up the glorious mountains of Arenal. Enjoy the best views, appreciate true nature.

The Best Breaking Systems
Professional certified braking systems, with a main system and a backup one; we'll take care of the hard work, live this extraordinary moment at fullest.

The Best Views
Zipline from mountain to mountain and don't forget to look around, the views are simply breathtaking. Enjoy panoramic views from the highest points.

No Walking
NO walking distances, get off and jump on to the next cable. This tour is all about the adrenaline rush while flying over the mountains.
Schedules

Restrictions

Tips
Schedules

:Arenal:

8:00am | 9:00am | 10:30am | 11:30am | 1:00pm | 2:00pm | 3:00pm

Restrictions

Maximum weight allowed: 136 kg (300 lb).
Maximum waist size to fit the harness: 117 cm (46 in).
Maximum leg loop size to fit the harness: 67 cm (26 in).
This is a high-intensity activity and is not suitable for individuals with health issues such as back, neck, bone, or muscle problems, surgeries within the past year, or heart conditions.
The minimum age required to participate in this tour is 5 years old, provided that the harness and other equipment can be properly adjusted.
Children under 10 years old may travel "alone on the ziplines" if the guide deems it appropriate. This decision will depend on the child's weight and specific weather conditions at the time. Otherwise, it will be at the guide's discretion to determine who will accompany the child on the cable.
Adolescents aged 14 to 17 can take the tour without the need for adult supervision, as long as a responsible adult signs the waiver before the activity.
Safety areas are provided on the platforms, and it is the responsibility of both the responsible adult and the guides to ensure that children remain within these designated areas.
The guide reserves the right to suspend the activity for children who appear visibly nervous and fearful.
Children's rates apply for ages 5 to 12.
Check-in should be done 15 minutes before the scheduled tour start time.

Tips

Wear comfortable and light clothes, better if they are breathable.
Bring a jacket or raincoat, just in case a friendly rain comes by.
Wear hiking or tennis shoes, preferably something comfortable and enclosed.
Sunscreen is always recommended in this beautiful tropical country.
Insect repellent will be a good idea to have, specially (as locals will describe it) if you have 'sweet' skin.
Transportation is not included but available for an extra fee from most centrally located La Fortuna Hotels (no locations outside the La Fortuna area).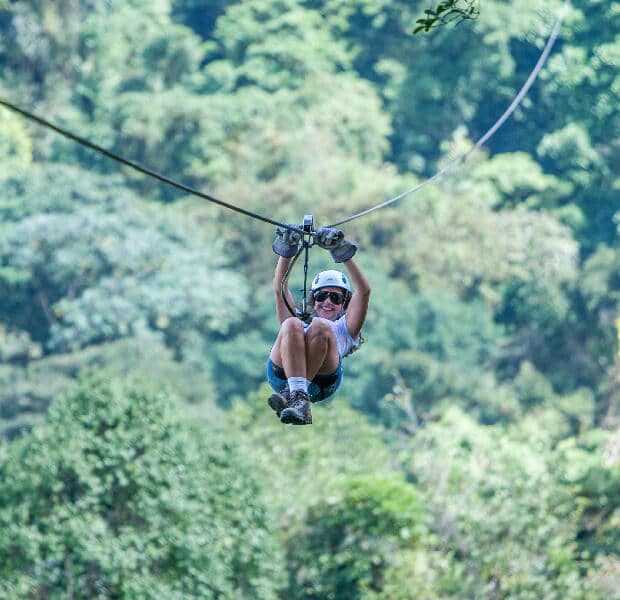 Book Packages With Ziplines
Not quite the adventure you were looking for?
Check all of our other amazing experiences!
Book directly online and save! Book packaged adventures and save even more. Also remember to book ahead of time to secure your space on the desired schedules.