Breathtaking Panoramic Views
Sky Adventrues Aerial Tram
Our aerial tram will take you up to the highest mountain in  Arenal. Our tramway will offer amazing views of the surrounding forests and even more. While ascending you will also be able to admire distinctive flora and fauna that might be only spotted from above.
Sky Adventures' aerial tram offers a gentle ascent through the lush rainforest, revealing panoramic mountain views in a tranquil setting. This experience is perfect for nature enthusiasts who prefer a more relaxed approach to exploring the wilderness. A bilingual guide will accompany you, sharing fascinating insights into the local flora, fauna, and the unique aspects of the region.
This serene journey culminates at an observation deck, the highest point of the reserve, where you're greeted by the iconic Hand Of Arenal. This impressive sculpture, a giant hand emerging from the earth, stands beside the deck, offering a spectacular backdrop of Lake Arenal. Here, amid breathtaking views of Arenal Volcano and its surrounding forests, you'll understand why this sculpture has become a symbol of the area's natural beauty.
Aerial Tram Tour Highlights

Magnificent Tramway
More than 800m (2625ft) in our aerial tramway up the magnificent mountains of Arenal. Reach the highest points in the area, the top of the mountains.

Discover From Above
The aerial tram at Sky Adventures is a unique way to discover the forest from above. At heights that exceed treetops you can spot unique findings only possible in such a biodiverse forest.

The Best Viewpoints
When our aerial reaches the highest point of the mountain, you will arrive at an exclusive viewpoint with breathtaking views of the surrounding forests and beyond.

Guides Available
Guides are available for the tram ride and if accompanied, they will explain and teach you about the flora and fauna of the area and all its interesting facts.

Mountainous Ascent
Discover the different sceneries a single mountain has to offer at different heights while travelling up the mountain with elevation gains of up to 227m (745ft).

Accesible Tour
Costa Rican forests are so wonderful, that everyone has to have the possibility to admire them. The tram with its spacious gondolas makes it possible even for people with some disability.
Aerial Tram Tour Information
Schedules

Restrictions

Tips
Schedules

:Arenal:

8:00am | 9:00am | 10:30am | 11:30am | 1:00pm | 2:00pm | 3:00pm

Restrictions

Child rates apply from ages 5 to 12.
Check-in is 15 minutes prior to the booked tour start time.

Tips

Wear comfortable and light clothes, better if they are breathable.
Bring a jacket or raincoat, just in case a friendly rain comes by.
Sunscreen is always recommended in this beautiful tropical country.
Insect repellent will come in handy.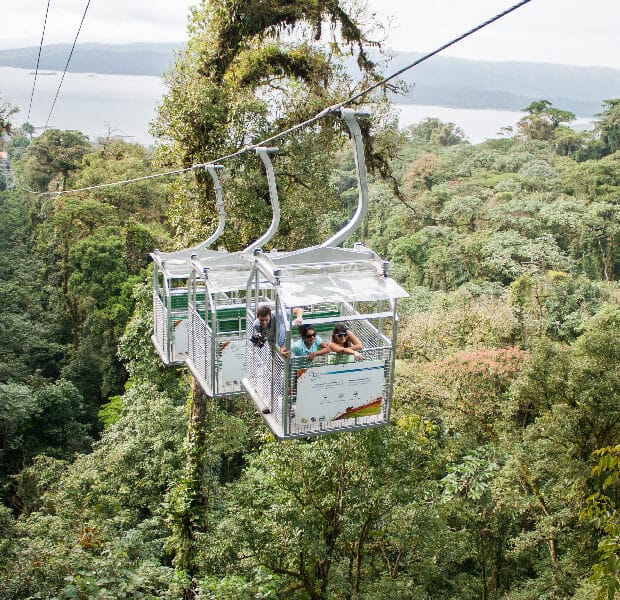 Book Packages With Aerial Tram
Not quite the adventure you were looking for?
Check all of our other amazing experiences!
Book directly online and save! Book packaged adventures and save even more. Also remember to book ahead of time to secure your space on the desired schedules.