Costa Rica Sky Adventures
We, Costa Rica Sky Adventures, as a responsible company we take very seriously the matter of security and safety for all, from our visitors, our personnel, and including nature. That is why today we are recognized as the safest company to develop adventure activities in the Country.
Safety, our top priority.
In our company we take very seriously the matter of security, and that is why today we are recognized as the safest company to develop adventure activities.
With over 20 years of experience in adventure tourism, security is a recognition that we have been given for the years of hard work, always seeking perfection in this field.
Part of this commitment is that we evaluate our parks and staff every day to constantly improve and provide tours of the highest safety and quality.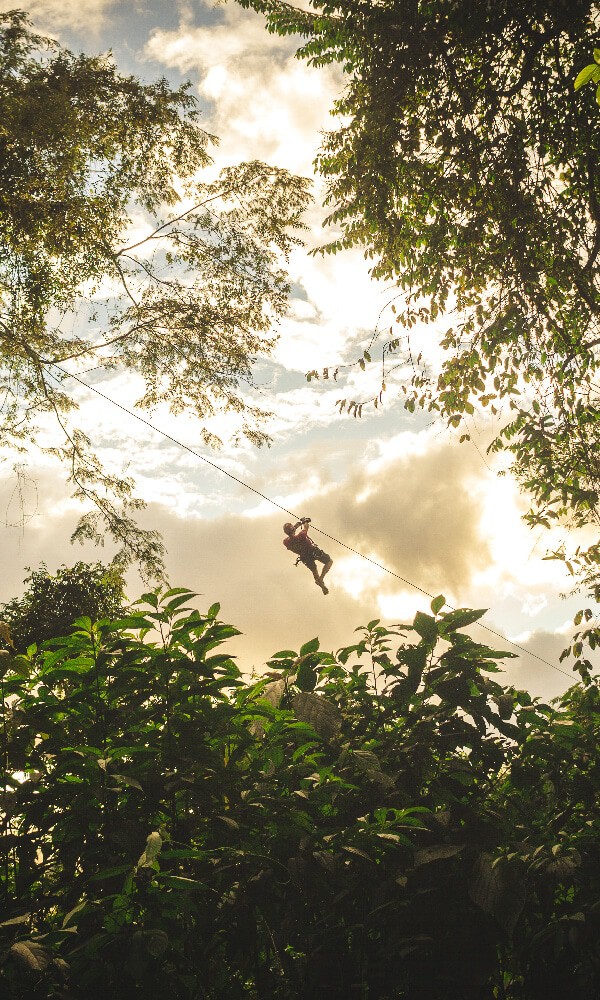 Our key elements in safety:

Trained Staff
There is no point having the highest standards in safety unless we have a highly trained staff. In our company this is our primary concern, all our guides go through meticulous training in emergency procedures and safety protocols. All guides are certified by legal entities and in constant training with safety matters.

No Hands On Cable
For safety reasons, Sky Adventures removes as much work as possible from our visitors. Pulleys are one key element and a potentially dangerous one on ziplines. Our pulleys are uniquely designed with two comfortable handles. Thanks to this design your hand is on the pulley and never on the cable, making your ride safer so you can just enjoy the views.

No Harm To Nature
We use platforms instead of trees, preventing future harm to nature and incrementing safety with well constructed platforms. This are wide and spacious, designed for adventure activities and with the commodity of our guides and visitors in mind; made from steel and anchored to concrete foundations.

Braking System
Differently than normal zipline tours, where you need to break on your own for the most part with your hands on cable, we work with a totally safe system which consists in an innovative braking mechanism. When you reach the end of the cable, one of the guides will stop you with this braking system, so you don't have to worry about fully braking.

Exclusive Cables
We are a unique company that has custom made cables, specially designed for ziplining, acquired and certified by Fatzer, a Swiss company top of line in quality. Each stainless steel cable has a resistance of 16,783kgs (37,000lbs) Also the cables we use are twice as thick compared to a normal zip line tour company.

Safety Protocols
Our safety policies are oriented on preventing accidents and keeping our guests safe at all times, that is our main goal, purpose and what we prepare constantly for. But in any given case, our guides and staff are also well trained and prepared. Protocols are in place and ready to be executed. Also, all platforms and stations are equipped with emergency kits.








Are you ready to live an extraordinary experience?
Book your experience at your desired park, Monteverde or Arenal.
Book online and save! Book packaged adventures and save even more. Also remember to book ahead of time to secure your space on the desired schedules.