A spectacular adventure with a combination of suspension bridges and trails with heights that exceed the treetops. Discover the exuberant tropical forests of Costa Rica from all perspectives, enjoying magnificent views.
Nature Inspired Treetop Walk on Hanging Bridges
Sky Walk offers a more peaceful introduction to exploring Arenal Rainforest on a 4km (2.5mi) circuit trail that snakes through distinct levels of the wonderfully diverse ecosystem. Sky Walk uses these trails and a series of suspension bridges for a one-on-one experience with the flora and fauna of the forest canopy. You will hike deep into these magical tropical forests to admire nature from a distinct perspective. Crossing hanging bridges with complete views of the forest canopy, and from the forest floor on well-maintained paths – when booking you will have an option to go on tour with a naturalist guide, who will point out intriguing plant and animal life. Trails includes some uneven surfaces and several ascents and descents.


Hanging Bridges
Sky Walk hanging bridges not only have impressive views, they are also impressive by themselves, with distances up to 236m (774ft) and heights up to 70m (230ft).

Unique Biodiversity
Sky Walk hanging bridges are perfect to appreciate Costa Rica's magnificent and world recognized biodiversity by walking and admiring nature from different perspectives.

In Harmony With Nature
Trails and hanging bridges are designed and maintained to cause the lowest impact to nature, trying always to keep the forest intact for everything living in it.

Local Naturalist Guides
When making your reservation, you will have an option to go on tour with a naturalist guide, who will share with you intriguing facts and point out distinctive flora and fauna of the area, amazing details one might miss.

Unique Sights
Forests in Costa Rica are rich in flora and fauna. Keep an eye out for all the wonderful treasures in it. Discover nature from bottom to top.

Original Hanging Bridges
Costa Rica Sky Adventures are the founders of world famous Sky Walk, the first hanging bridges in Costa Rica. Years have led us to provide a top of the line experience.
Sky Walk Tour Information
Schedules

Restrictions

Tips
Schedules

:Arenal:

8:00am | 9:00am | 10:30am | 11:30am | 1:30pm | 2:30pm

Restrictions

Child rates apply from ages 5 to 12.
Check-in is 15 minutes prior to the booked tour start time.

Tips

Wear comfortable and light clothes, better if they are breathable.
Bring a jacket or raincoat, just in case a friendly rain comes by.
Wear hiking or tennis shoes, comfortable and enclosed.
Sunscreen is always recommended in this beautiful tropical country.
Insect repellent will come in handy.
This activity is snack and water bottle friendly, meaning you can bring them with you on tour to keep your strength and energies up. (just remember to take back anything you brought with you and keep nature as it is).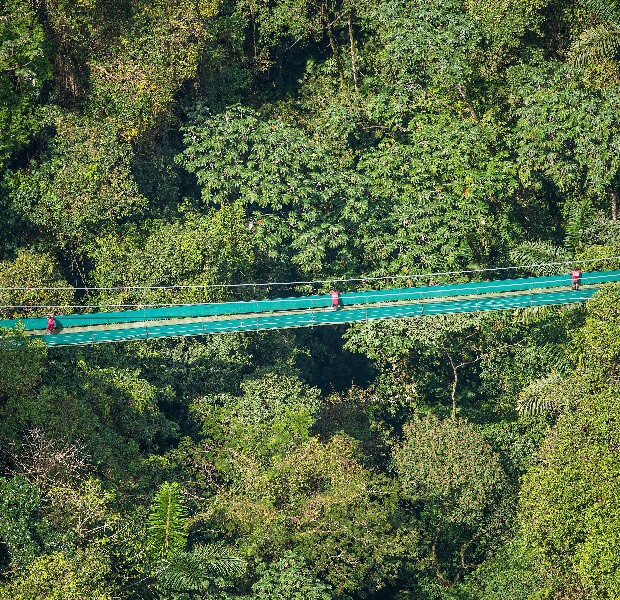 Book Packages With Hanging Bridges
Not quite the adventure you were looking for?
Check all of our other amazing experiences!
Book directly online and save! Book packaged adventures and save even more. Also remember to book ahead of time to secure your space on the desired schedules.