Arboreal Tree Climbing Park
Live a unique and totally natural climbing experience on our tree climbing park. Challenge yourself to climb the giants of the Monteverde Cloud Forest. A series of trees with varying difficulties and heights are available to climb.
Natural And Unique Tree Climbing Experience
Arboreal Tree Climbing Park is the first tree climbing park in Costa Rica. It represents a totally different way to enjoy nature and the cloud forest of Costa Rica. The tour consists of a climbing circuit of 4 trees that go from 10m (33ft) and up to 20m (66ft) high and with various levels of difficulty. The trees are equipped with handhold pieces designed specifically for climbing trees; attached with straps, preventing any harm or damage to the tree. This adventure is also complemented with automatic belay systems, meaning, the adventurers will be attached to a safety certified device. You will climb any of our trees and once reached the top you will let go and the automatic belay system will descend you softly and safe to the ground. Arboreal is a Tree Climbing Park that seeks to provoke an experience at a deeper level by exploring the cloud forest from the bottom to top, connecting visitors with the natural environment.

Book On Your Desired Park:
Arboreal Tree Climbing Tour Highlights
Giants Of Our Cloud Forest
The most natural experience of Costa Rica exploring trees. A total of 4 trees are available that go from 10m (33ft) up to 20m (66ft) high.
Automatic Belays
All participants are secured to an automatic belay system. When loose, participants will automatically descend securely and gently to the ground.

Conquer The Experience
Each tree is unique, from their height, their curves and species; therefore, difficulties vary, and every tree is a different experience to conquer.

Your Adventure
Participants decide what trees to climb, how fast, and when to let loose, they will climb at their own strength and pace, setting their own challenges.

Naturally Friendly
The Arboreal experience uses a special system specifically designed for climbing trees that does not harm or damage the trees in any way.

Family Friendly
This activity is ideal for people of all ages with a will to climb, from kids to adults. There is a tree for everyone, a fun adventurous activity to enjoy.
Arboreal Tree Climbing Tour Information
Schedules

Restrictions

Tips
Schedules

:Monteverde:

8:00am | 10:00am | 12:30pm | 2:30pm

Restrictions

Minimum height 105cm (3'5").
Maximum weight 150kg (330lb).
Child rates apply from ages 5 to 12.
High intensity activity not permitted for people with any kind of health problem (back, neck or any pain, bone, muscle or heart problems).
Check-in is 15 minutes prior to the booked tour start time.

Tips

Wear comfortable and light clothes, better if they are breathable.
Bring a jacket or raincoat, just in case a friendly rain comes by.
Wear hiking or tennis shoes, comfortable and enclosed.
Sunscreen is always recommended in this beautiful tropical country.
Insect repellent will come in handy.
This activity is snack and water bottle friendly, meaning you can bring them with you on tour to keep your strength and energies up. (just remember to take back anything you brought with you and keep nature as it is).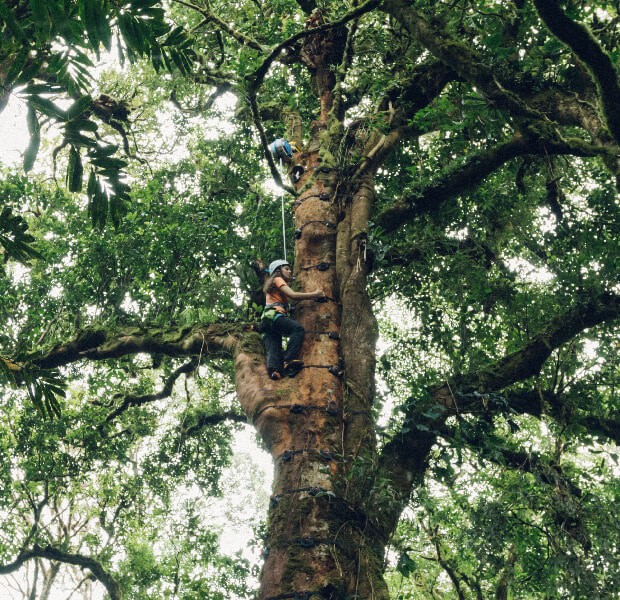 Book Packages With Tree Climbing
Arboreal Tree Climbing Tour Gallery
Not quite the adventure you were looking for?
Check all of our other amazing experiences!
Book directly online and save! Book packaged adventures and save even more. Also remember to book ahead of time to secure your space on the desired schedules.