Picturesque Volcano Lake Kayaking
Sky Wild Kayaks On The Lake
Experience the scenic and beautiful Arenal Volcano and its magnificent lake from the unique perspective of a kayak. This tour gives you the opportunity to do a trip across lake on a personal or double kayak to enjoy the natural beauties of the area.
Picturesque Volcano Lake Kayaking
Experience the scenic and beautiful Lake Arenal from the unique perspective of a kayak. The Lake Arenal area offers incredible kayaking opportunities with its ample spaces. It is the best lake on Costa Rica for a kayaking adventure. On the Sky Wild Kayaks tour, you will be accompanied by a guide, who will give you proper paddling instructions, accompany you on the way to show you the best places on the lake and who will teach you about the areas natural history, and about the magnificent Arenal Volcano which you will always have beside you. This experience is perfect for all who seek a peaceful ambience and a adventure to connect with nature.

Book On Your Desired Park:
Sky Wild Kayaks Tour Highlights
Arenal Lake
Sky Adventures kayaking experience will amaze you with its breathtaking sceneries on the Arenal Lake; one the most scenic lakes in Costa Rica.

Kayak Types
Sky Wild Kayaks offers tandem kayaks, paddling in pairs makes it easier but is also tons more fun. We also have single kayaks if preferred.

Naturalist Guides
Certified Naturalist Guides will accompany you on all tours, assisting you with anything necessary and pointing out key natural aspects of the area.
Kayaking For All
The Arenal Lake is a really peaceful environment making the kayaking activity fairly easy. It is a perfect activity to enjoy with friends and family.

Scenic Experience
Sky Wild Kayaks will take you on a water ride to admire. Enjoy remarkable sceneries of the rain forest life along the Arenal Lake and volcano.

Relaxing Time
The Arenal Lake's calm waters and the smooth ride are perfect for tourist who seek a relaxing time in Costa Rica, wile admiring the natural beauties.
Sky Wild Kayaks Tour Information
Schedules

Restrictions

Tips
Schedules

:Arenal:

9:00am | 12:30pm

Restrictions

Minimum height 120cm (3'11")
Maximum weight 170kg (375lb)
Maximum waist 162cm (63in)
Must know how to swim.
Check-in is 15 minutes prior to the booked tour start time.

Tips

Bring a fresh change of clothes for after the water adventure.
Wear comfortable and light clothes, better if they are breathable.
Bring a jacket or raincoat, just in case a friendly rain comes by.
Wear tennis shoes, comfortable and enclosed.
Sunscreen is always recommended in this beautiful tropical country.
Insect repellent will come in handy.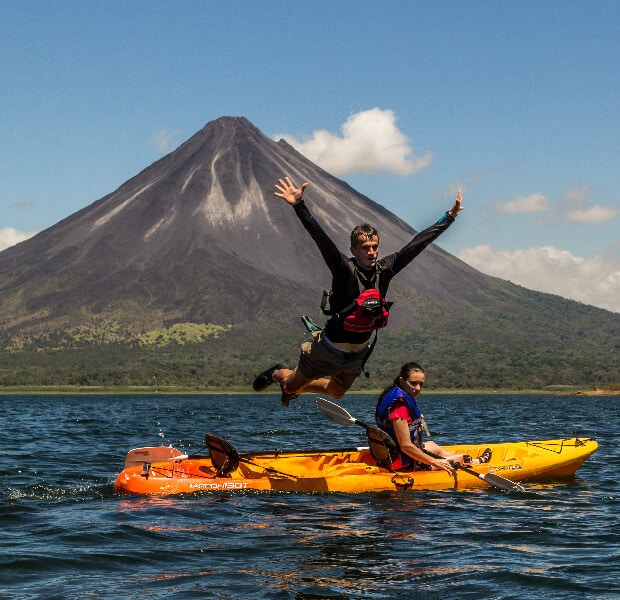 Book Packages With Kayaks
Sky Wild Kayaks & Bikes
Amazing scenic package of the Arenal Lake and its surrounding wonders aboard kayaks and mountain bikes.
Sky Wild Kayaks
Arenal Lake and Volcano at its best. This kayaking adventure is one of the most scenic kayaks in the country.
Sky Wild Kayaks Tour Gallery
Not quite the adventure you were looking for?
Check all of our other amazing experiences!
Book directly online and save! Book packaged adventures and save even more. Also remember to book ahead of time to secure your space on the desired schedules.