Explore the Arenal Lake and surrounding nature on an incredible mountain bike ride. This journey, accompanied by a guide, will let you enjoy the natural beauty of the area while liberating your energy on an adventurous road alongside the lake.
Striking Arenal Mountain Bike Alongside The Lake
This leisurely ride will take you alongside nature and the beautiful Arenal Lake and Volcano. On the Sky Wild Bikes tour you will enjoy the incredible views of the most iconic volcano in Costa Rica. The biking route will be of 13km (8mi) and will be around the Arenal Lake shore. On the way, you will go by nearby towns, learn about local history and learn about the unique history of the Volcano and its surroundings. On route you will be able to cross various rivers which are perfect moments that many use to cool a little, freshen up and admire the scenic beauty of this destination. The lake shore and surrounding forests are rich in flora and fauna, so while pedaling it is a good idea to keep an eye out for any nature discovery.

Book On Your Desired Park:
Sky Wild Bikes Tour Highlights

Wonderful Ride
Sky Wild Bikes will take you on a wonderful ride of 13km (8mi) scenic route alongside the magnificent Arenal lake.

Naturalist Guides
Certified Naturalist Guides will accompany you on tour. A guide will attend you pointing out key aspects of the area.

Refreshing Experience
On the way, while biking you will have the opportunity to cross various rivers, a refreshing experience part of the ride.

The Bikes
Specialized mountain bikes will be provided, so you will have an easy time cycling. Different bike sizes available: 24", 26" and 29".

Scenic Route
Enjoy the beauty of nature with the remarkable sceneries it offers while biking alongside the Arenal Lake and Volcano.

Biking For All
Arenal Lake shore is a wonderful place to bike, the landscape makes biking easy on one of the most beautiful destinations.
Sky Wild Bikes Tour Information
Schedules

Restrictions

Tips
Schedules

:Arenal:

9:00am | 12:30pm

Restrictions

No sandals or bare feet are allowed for the tour.
Minimum height 120cm (3'11").
High intensity activity not permitted for people with any kind of health problem (back, neck or any pain, bone, muscle or heart problems).
Check-in is 15 minutes prior to the booked tour start time.

Tips

Bring a fresh change of clothes for after the adventure.
Wear comfortable and light clothes, better if they are breathable.
Bring a jacket or raincoat, just in case a friendly rain comes by.
Wear tennis shoes, comfortable and enclosed.
Sunscreen is always recommended in this beautiful tropical country.
Insect repellent will come in handy.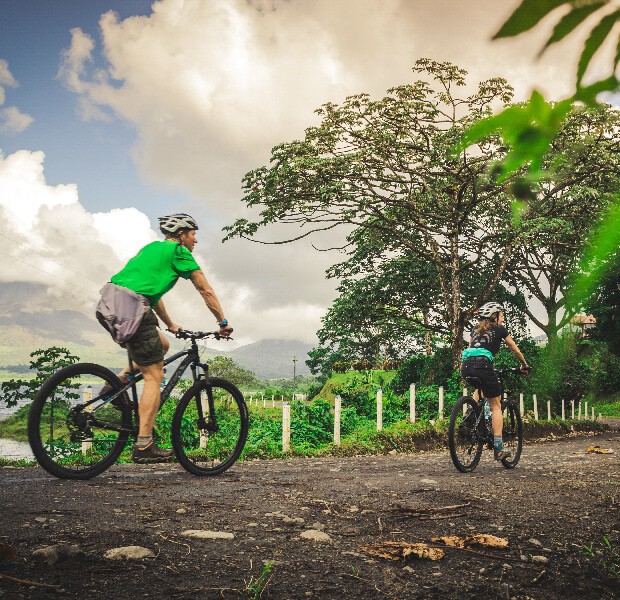 Book Packages With Mountain Biking
Sky Wild Kayaks & Bikes
Amazing scenic package of the Arenal Lake and its surrounding wonders aboard kayaks and mountain bikes.
Sky Wild Bikes
This tranquil bike ride will lead you alongside the Arenal Lake and Volcano to discover its near nature and more.
Sky Wild Bikes Tour Gallery
Not quite the adventure you were looking for?
Check all of our other amazing experiences!
Book directly online and save! Book packaged adventures and save even more. Also remember to book ahead of time to secure your space on the desired schedules.