A Truly Delicious Experience
This tour takes place in our small Estukurú Chocolate Factory, located in La Fortuna Downtown. Get to know the process of how real chocolate is made, from the plant to the bar. 🍫
From The Plant To The Bar, Experience The Real Chocolate Process
Estukurú is not the normal adrenaline intense or adventurous experience that you will live at Sky Adventures Arenal Park. Instead, Estukurú is a small chocolate factory with a unique experience, where you will learn from one of the most delicious flavors in the world: chocolate.
Estukurú was founded by the same family who started Sky Adventures, the three siblings from Monteverde, who discovered in the fruit of cacao an opportunity to give to the world the best of Costa Rica, in a delicious form.
Located in La Fortuna downtown, at our factory, you will live this amazing experience where we will share with you the journey we've had and all that we've learned from the delicious fruit of cacao. We will take you on the chocolate experience that goes from the tree to the final and exquisite chocolate bar.


Tour Through Our Cacaotal
Right in our property we have a "small" version of what are real cacao farms are like.

Get To Know The Factory
Our chocolate factory is a small one. But from here, is where one of the finest chocolates in the country are made.

Cacao Fuit Tasting
Real chocolate comes from a fruit, get to know it and also taste it before it gets processed.

Make Your Own Chocolate Tablet
Since you will be learning all about our process and the detail and care we put into elaborating one of the finest chocolates in the country, here you will be ready to prepare your own one.

The Chocolate Process
Learn how real chocolate is made, go through all the steps of the elaborate art of chocolate making.

Product Tasting
An absolutely delicious experience is not complete without tasting what real chocolate is like. Taste a variety of our options.
Estukurú Tour Information
Schedules

Restrictions

Tips
Restrictions

None 😀
We are located in La Fortuna Downtown, easy access and anyone can visit us.

Tips

Tour lasts around 90min and is right in our property in La Fortuna downtown. Relax and enjoy a delicious experience.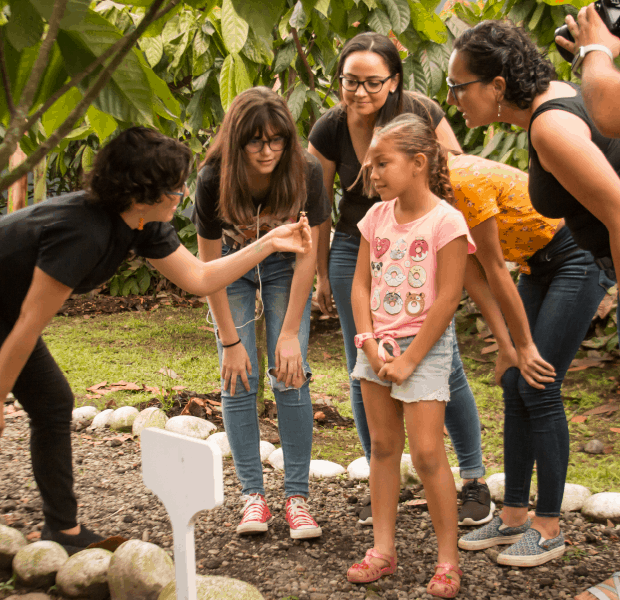 Not quite the adventure you were looking for?
Check all of our other amazing experiences!
Book directly online and save! Book packaged adventures and save even more. Also remember to book ahead of time to secure your space on the desired schedules.