Personal Rafting Experience
Sky River Drift Personal Rafting
A must for all those adventurers seeking for top fun activities. Sky River Drift combines a couple of ziplines plus an amazing ride along a meandering river deep inside the jungle. Rafting will be done on a personal level, you a raft and a wild fun river.
Exhilarating Personal Rafting & Zip Lines
Explore the mountain in a fun and very exciting way. The Sky River Drift tour has two different activities that provide an excellent opportunity filled with emotions and sensations that will satisfy the most adventurous tourists. To start this tour, get your energies up and get your adrenaline flowing, you will soar over the forest on two fabulous ziplines. You will enjoy the adrenaline of speeding over the trees while enjoying great views of the local landscape. After this a short walk will take you to main attraction: the Piedras Negras River: a blasting fun river. Sky River Drift takes place on this winding adventurous path inside the jungle. You will be carried away by the current on a series of rapids and drops, not dangerous, but wild enough for a great adventure. You will go on a personal raft, meaning you vs nature, definitely blasting water fun.

Sky River Drift Tour Highlights

Thrilling Ziplines
Sky River Drift Tour includes a couple of thrilling ziplines in the rainforest. Over 800m (2625ft) combined of pure adrenaline intensity.

Better Rafting
This tour has the same fun and adrenaline as normal rafting. What makes it way better is that you'll be on a single raft, and on safer river.

River Rafting
Enjoy 3km (1.9mi) of adventure down the Piedras Negras river drifting and sliding on a white-water river in your own personal raft.

Personal Experience
Sky River Drift is done on personal rafts which are big and spacious, giving you stability and protection; easy to handle on an exciting river.

Drifting Fun
This unique experience will take you over a series of small rapids, curves and very fun drops,  an exciting experience you'll never forget.

Experienced Personnel
Certified Guides will accompany you on all tours. Our guides will be rafting with you to provide assistance when needed and ensure your safety.
Sky River Drift Tour Information
Schedules

Restrictions

Tips
Schedules

:Arenal:

9:00am | 10:30am | 11:30pm | 12:30pm

Restrictions

Maximum weight 98kg (216lb).
Minimum height 140cm (4'7").
No sandals or bare feet are allowed for the tour.
Child rates apply from ages 5 to 12.
High intensity activity not permitted for people with any kind of health problem (back, neck or any pain, bone, muscle or heart problems).
Check-in is 15 minutes prior to the booked tour start time.

Tips

Bring a fresh change of clothes for after the water adventure.
Wear comfortable and light clothes, better if they are breathable and suited for water.
Bring a jacket or raincoat, just in case a friendly rain comes by.
Wear enclosed shoes, no sandals.
Sunscreen is always recommended in this beautiful tropical country.
Insect repellent will come in handy.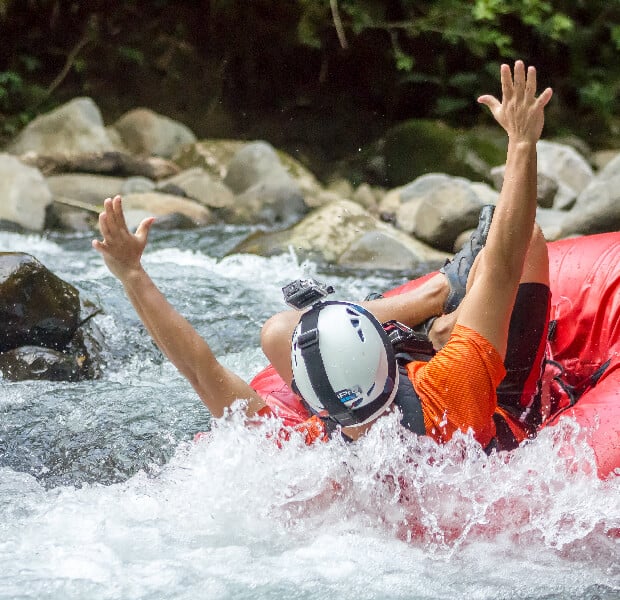 Book Packages With Personal Rafting
Sky River Drift Tour Gallery
Not quite the adventure you were looking for?
Check all of our other amazing experiences!
Book directly online and save! Book packaged adventures and save even more. Also remember to book ahead of time to secure your space on the desired schedules.